IGTV (Instagram TV) – What, when, how & who?
This month – Instagram launched its brand new video platform: Instagram TV. IGTV is set to compete with YouTube – the multimillion pound beast that's home to some of the most famous content creators in the world.
Instagram also announced that it has hit 1 billion users – meaning it's the third largest social network after YouTube & Facebook. With IGTV providing an attractive offering for content creators and brands alike – should YouTube be quaking in its boots?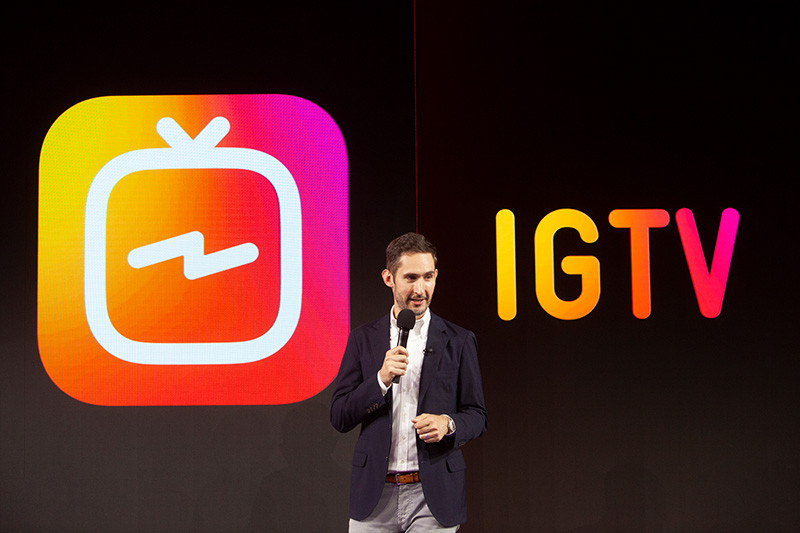 What is IGTV?
A new feature on Instagram, which allows users to upload long-form videos (which can be up to an hour). Instagram users can upload content onto their 'channels' – the videos are in a vertical format.
The technical stuff:
File size: up to 3.6GB
Length: up to 1 hour
File type: MP4
Video format: 9:16
Why IGTV?
In the past 6 years, the viewing hours of professional video content has gone down, and 'amateur' video content is up 68%. This is reflective of the multitude of popular video platforms we've seen in the past few years – including Snapchat, Periscope & Instagram Stories. Instagram TV has created a platform that combines 'professional' and 'amateur' seamlessly – brands can create authentic content that appeals to those looking for less polished content.
The introduction of Instagram Stories in August 2016 made it clear that content creators and brands are keen to post on a platform where an audience already exists. Once Instagram had nabbed all of the original features that Snapchat introduced, brands were quick to jump-ship from Snapchat and choose Instagram Stories as their platform of choice for quick, off-the-cuff content. With growing audiences on Instagram and if the Snapchat/IG Stories nightmare was anything to go by, IGTV could see brands ditching YouTube & opting for a platform where they know their fans are already engaged.
How can you use it for your brand?
There are no advertising options for IGTV as of yet (There's one in the works though, according to an Instagram insider) but there are plenty of ways you can use the platform organically.
Half & half
Treat Instagram TV like a mix between slick YouTube content & Instagram Stories – yes you want high quality content – but the nature of Instagram means you can create slightly less polished content than a fully-fledged YouTube video. The portrait mode gives IGTV an instantly homemade feel, which can be appealing for consumers who are looking for authentic video.
Niche content
If you're looking to branch out with the type of content you create – it can be jarring if you start posting this content on your existing channel. If you want to keep your YouTube channel consistent, consider using Instagram TV to post about more niche topics that are connected to your brand, that would seem strange if they sat on your YouTube.
Treat it like TV
Looking to start a new 'series'? Consumers online are keen for episodic content – and Instagram TV is a great platform for this.
Who's using IGTV?
We're already seeing some brands creating some pretty cool stuff on Instagram TV.
Bacardi & Les Twins
Bacardi took to Instagram to get fans to help direct a music video. Using the poll feature, Bacardi asked followers to choose options for Les Twins new music vid- which was then published on both Bacardi's and Les Twins IGTV channels. Check out the full video below.
Vogue
Vogue have used Instagram TV to post 'Beauty Secrets' content – including video tutorials from Kylie Jenner & Lili Reinhart. This type of content fits nicely on both Instagram & YouTube – so IGTV seems like the perfect combo of these to test out beauty/fashion content.
Bloomberg Business
Bloomberg have used IGTV to share documentary style clips of special inside looks at situations – like mini news broadcasts. Check out their channel here: https://www.instagram.com/bloombergbusiness/?hl=en
Are you planning on using IGTV for your brand? I'd love to hear how you're planning to use the platform. Tweet me @RubyL0ve!
By Ruby Lowe
Comments
comments